TGV General
TGV
Soon a new challenge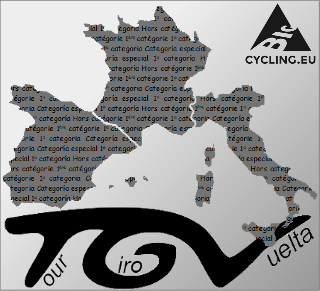 A new challenge called TGV (Tour+Giro+Vuelta) will happen !!!!
Launch : the 1st of may 2021.
The list of the HC and C1 climbs of the 3 great tours will be edited at the end of the year 2020.
This list has a fixed quote but will be filled every coming year by the eventual new HC and C1 new climbs taken in those tours 2021, 2022,...
This is the first challenge with a fixed, limited BUT EVOLUTING number. You can become a finisher ... until the moment that a new climb appears.
It's normally a good motivation for the sporting guys and the young people fond of broadcasted climbs on big tours.
Here below some examples of profiles for the 3 great tours with HC and 1C climbs.
THE CLASSEMENT STEPS
Currently (but the numbers can be changed according to the total of tops listed after ) like in Golf Game with the amount of climbs still to climb
PAR0 : King of Mountain
PAR1 à 10 : Leader
PAR10 à 30 : Chaser
PAR30 à 100 : Peloton
PAR100 à 200 : Gruppetto
PAR200+ : Sweep
TGV : it's the new coming challenge of the BIGCYCLING WORLD.
----------
Note :
Results of the votes
Do you agree with the building of a new challenge compiling the HC and 1st category GPM of Tour, Giro and Vuelta ?
Yes : 77% against No :23%
Amount of votes :
yes : 17
No : 5
No idea : 8