DUTCH MEETING 2018
28 en 29 april: Dutch Crossroad: 10 bigs in 1 weekend!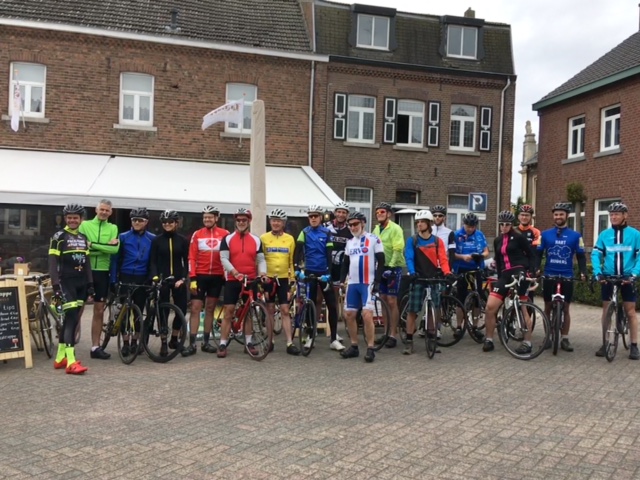 The line-up from this foto of the Dutch Crossroad is: ( from left to right):
Coen Schillemans, Peter Verhoeven, Vinny Taylor, LK, Axel Jansen, Christiaan Weytmans, Jan Mastenbroek, Peter van de Broek, Henri Klijn, Guust van der Steen, Gerard Meijering, Jaap Wijnen, Robbert van de Kerkhof, Stefan Disbeschl, Patricia Verboven, Juris Martins, Pim Weijtmans, Wim van Els.
On saturday 28 april 2018 these 18 cyclists started from Chrisjes Eetcafé in Margraten. The weather was nice, the company was great, old friends met new friends, and while cycling through the hills of the most southern part of the Netherlands a lot of cycling-stories have been told. 7 BIG's had to be climbed in a tour of 80 km. First one was Cauberg, the traditional hill where even world championships have finished. Then the sudden surprise: Keutenberg, which is very steep, but therefor not so long. Oude Huls followed Eyserbosweg, and halfway we had a quick lunch on the Vaalserberg: the highest point of the Netherlands. We made a nice picture at the point where the borders of Belgium, Germany and the Netherlands come together. After the nice climb to Vijlenerbos, came quickly the last climb: Gulpenerberg. After every climb everyone waited to rejoin the group so we finished all together in Margraten. Nice tour with nice friends from all over Europe.
The day after, 8 cycists climbed the 3 other bigs in the Netherlands.
Op 28 en 29 april wordt de eerste Nederlandse Crossroad van 2018 gehouden: Christiaan Weytmans viert zijn 60e verjaardag met een heus fietsfeest:
Zaterdag 28 april om 10.00 uur verzamelen in Margraten bij Eetcafé Chriske, Pastoor Brouwersstraat 7 6269 BP Margraten, parkeren kan heel gemakkelijk op het 100 meter verderop gelegen Amerikaplein. Om 10.30 uur vertrekken we voor een mooie fietstocht waarin alle 7 Limburgse BIGs opgenomen zijn. Mocht je voor het vervoer naar Margraten samen met anderen willen rijden: neem dan even contact met mij op, mogelijk kunnen we samen wat afspreken.
´s Avonds vanaf 20.00 uur een biertje bij Christiaan thuis: Jeroen Boschlaan 33 5056 CV Berkel Enschot. Voor een beperkt aantal mensen is er een overnachtingsmogelijkheid.
Zondag 29 april neemt Wim van Els ons mee voor een fietstocht rond Nijmegen en Arnhem met de drie noordelijke BIG´s: Italiaanse Weg, Posbank en Oude Holleweg. Deze fietstocht gaat over circa 100 km en begint in Heteren. We verzamelen om 10.00 uur bij de carpoolplaats bij de MacDonalds (Polderstraat 41 6666 LD Heteren), vertrek om 10.15 uur. Ook hier geldt: als je iets af wilt spreken om samen te rijden, laat dan even iets weten.
Lijkt het je leuk om aan één, twee of drie onderdelen van dit fietsfeest mee te doen, meld dit dan even via de mail christiaan.weytmans@home.nl, zodat we weten op hoeveel mensen we moeten rekenen.