2022 Jura Suisse / Swiss Jura
JURA 2022
OFFICIAL BIGCYCLING MEETING / RENDEZ-VOUS BIGCYCLING OFFICIEL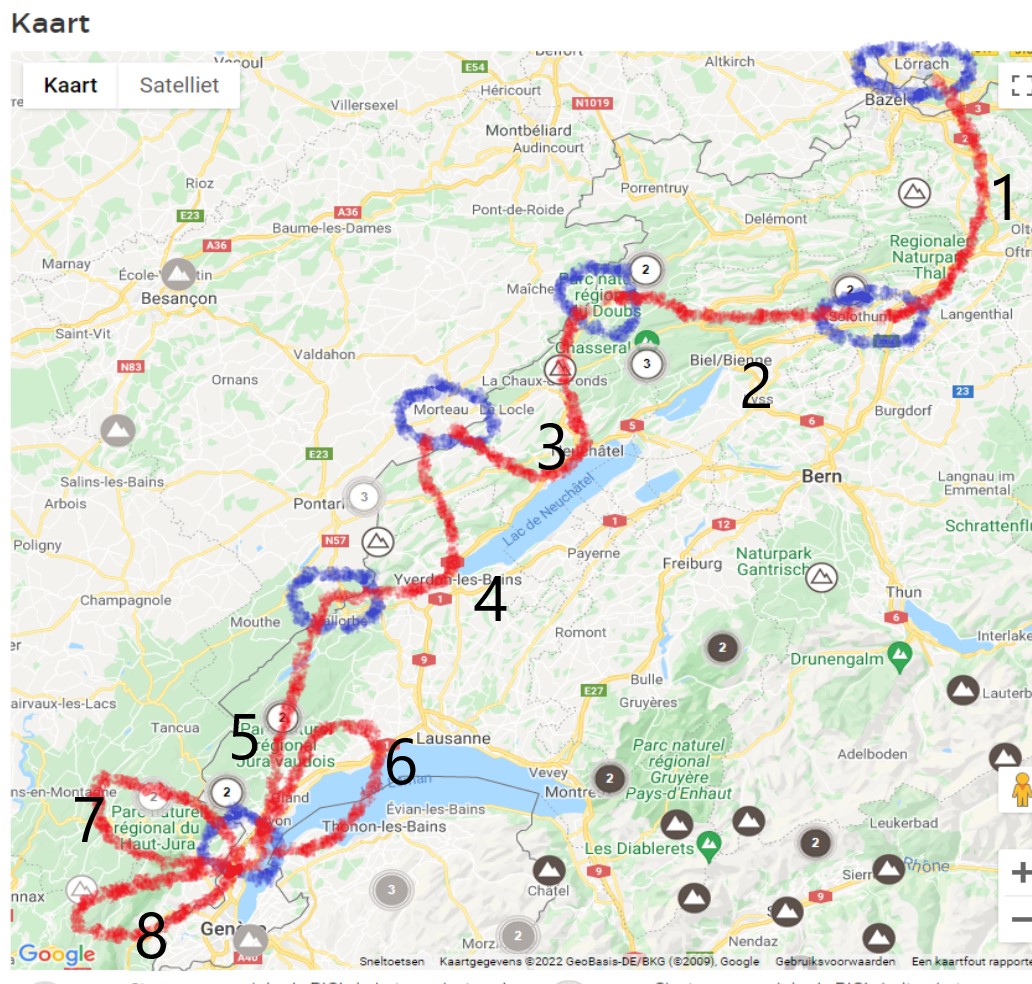 The term of Registration for the Meeting in Jura is closed: we are with 10 participants and Michel Pierre from Belgium who will incidentally visit us: 3 participants from the Netherlands: Hans, Bas and myself; 3 German participants: Ulla, Anja und Dirk; 2 Hungarian participants: Gabor and Balazs; 1 participant from France: Jean-Luc who will join us on the climbs and in the hotels but will travel in his own car, and Enrico from Italia, whom I almost forgot but happily was able to join us at the last moment.
Sunday 15.05.2022 FIRST DAY JURA MEETING
Balmberg + Passwang
Monday 16.05.2022 - 2nd DAY JURA MEETING : Noirmont + Col de la Croix + Weißenstein
Tuesday 17.05.2022 - 3rd DAY JURA MEETING : Chasseral - Mont Soleil - Vue des Alpes
Wednesday 18.05.2022 - 4th DAY JURA MEETING : Col de l'Aiguillon - Grand Taureau - Mont Morond
Thursday 19.05.2022 - 5th DAY JURA MEETING : Col de Marchairuz - Mont Tendre - Mont d'Or
Saturday 21.05.2022 - 7th DAY JURA MEETING : Crêt Pela - Cirque des Avalanches
The official annual bigcycling meeting will happen from 14th of may to 22nd of may 2022 in the french and swiss Jura, with 10 participants.
NL : Christiaan Weytmans, Hans Weijtmans, Bas Grun
DE : Ulla Hope, Anja Von Heydebreck, Dirk Buschmann
HU : Gabór Kreicsi, Balasz Abrahám
FR : Jean-Luc Le Tutour
IT : Enrico Alberini
We meet Saturday-evening 14th of May in Lörrach in:
Naturstein Hotel & Restaurant Lörrach: 5 x 2 beds
138 Basler Straße
79540 Lörrach
Germany
15th of May we start cycling to: Gasthof National in Langendorf: 3 x 2 beds + 2 x 2 beds, in the upper apartment we will make our own breakfast
Weissensteinstrasse 28
4513 Langendorf
Switzerland
16th of May we stay in: Gîte Chez Antoine in Saignelégier: 1 x 4 beds + 3 x 2 beds
Chemin Combe La Noire 7
2350 Saignelégier
Switzerland
17th of May we stay in: Hotel Les Montagnards in Morteau: 1 x 4 beds + 3 x 2 beds
7 bis place Carnot
25500 Morteau
France
18th of May we stay in: Hotel Etoile des Neiges: 1 x 4 beds + 3x 2 beds
4 rue du Village
25370 Métabief
France
19-20-21th of May we stay in: Zenitude Hotel, residence La Versoix: 5 x 2 beds
139 Rue De La Scie
01220 Divonne-les-Bains
France
22th of May we travel back home: Ulla, Anja and Dirk and myself by train, After climbing Mont Salève Gabor brings back Enrico, Bas, Hans and Balasz to Lörrach from where we can travel home.
I did adjust the OPENRUNNER-files to the exact locations of the hotels for the first 4 days, the others will follow soon as possible.
Kind Regards,
Christiaan Weytmans
Meetingsmanager.
File with informations available
Fichier avec informations accessibles