ZAKUSKIS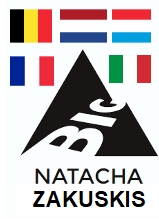 Here are the zakuskis offered by BIGCYCLING during the period of the Coronavirus with confinings and difficulties to travel far.
This selection is based on the final selection in the national challenge of each country and shows tops that are 95% lucky to be officialized in the final selection.

20 zakuskis in the Netherlands.
HOW TO DO ?
You can't of course already claim them inside our website. The launches of those official NATaCHAs will happen soon but not now, some months to wait for some and maximum 2 years for the other ones.
Those zakuskis show between 15 and 30% of the final selection among the non bigs natachas.
You can go there if your government allows you to do that travel and climb it now. Don't forget to note your claim on a paper with also the date of the success. When the natacha will be launched, you'll be able to claim it with this date.
Please, be careful to the real track for the natachas in small countries. It's not because you have surely cycled in the neighbourhood of this top, some time before, during your cycling carreer, that you exactly climbed the track shown.
The xls file that you opened show you the numbers, the names, the coordinates of the top (that helps you on online maps) and above all, the openrunner number. Go to openrunner.com and write the given number of the xls file in the menu "search a road". That action will show you the track of the side and the profile. And afterwards, enjoy it.
THANKS
The newlist-group of BIGCYCLING (Eric Lucas & Daniel Gobert) would like to thank the consultants who are helping them for the building of the whole natachas in those countries.
Jean GANGOLF for Luxemburg,
Fabrice OTUSZEWSKI for France
Gabriele BRUNETTI, Mauro REPETTI, Marco MOSCONI and Enrico ALBERINI for Italy
Martien OFFERMANS, Coen SCHILLEMANS for the Netherlands
Dirk VISSERS, Etienne MAYEUR, Amaury PREILLON for Belgium
They give very useful informations on what is really on the field.
AND THE OTHER COUNTRIES WITHOUT NATACHAS OR ZAKUSKIS ?
If the period of confining would be longer and that you also want to have zakuskis, don't hesitate to become consultants of your country if yours haven't yet been under works for the building of its own national challenge. With your help, your feelow countrymen will be happy to bike on climbs inside your borders.